Contact Us
Still have questions? Contact Solid Foundation Chiropractic
Solid Foundation Chiropractic
Solid Foundation Chiropractic, 5687 Tecumseh Rd. East, N8T 1C8
Located at the corner of Tecumseh Road East and Jos St. Louis Ave.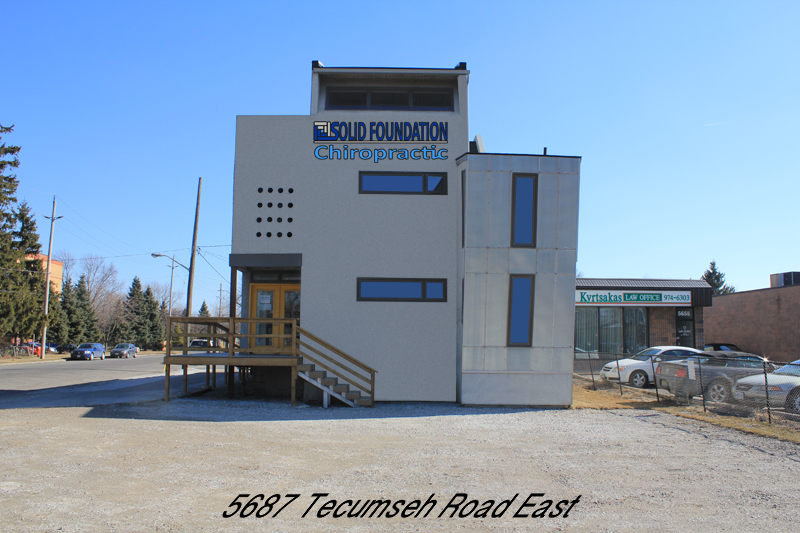 Solid Foundation Chiropractic is located on the corner of Jos St. Louis and Tecumseh Road East in Windsor Ontario. Contact us if you need specific directions from your location. If you are headed east on the E.C. Row Express way, get off on Jefferson and turn left at Tecumseh Road East. If you are headed West on the E.C. Row Express way get off on Lauzon Rd. Parkway North Exit and head north to Tecumseh Road East. Turn Left on Tecumseh Road East. We are located at 5687 Tecumseh Road East, Windsor ON, N8T 1C8.
Wheelchair Ramp Access: Our wellness centre is located in the whole building. Enter through the front doors on the north side of the building. Feel free to use the wheelchair ramp on the side of the building or the stairs at the front of the building. For those who may not be able to get in from their vehicle Solid Foundation Chiropractic has you covered. We have a transfer wheelchair on site to help you get in the building. Contact us in advance and we can have someone assist you into the clinic, if you need help. Our clinic space is designed to be able to accommodate wheel chairs and other assistant devices like walkers and canes. Contact us and ask the front desk to make arrangements for your specific situation.
Parking: Free Parking can be found in the front and the back of the building in our parking lot. Free street parking can also be found on Jos St. Louis Street. See what people are saying about us.
Contact Us:
Address: 5687 Tecumseh Road East, Windsor, ON N8T 1C8, Canada
Phone: 519-948-4000
Adjusting Hours:
Monday 7:00am-12:00pm, 3:00pm-8:00pm
Tuesday 3:00pm-7pm
Wednesday: 7:00am-2:00pm
Thursday 7:00am-12pm, 3:00pm-8:00pm
Friday: 9:00am-12pm
Saturday: Closed
Sunday: Closed
The front desk will be available to answer phones and return calls outside of the adjusting hours above.
Email Solid Foundation Chiropractic