Patient Testimonials
Our patients speak
Are you a patient of Dr. Brock Van Dyke? Your Chiropractic story will inspire others to live a vatialistic lifestyle. Please share your Chiropractic experience.
When you submit your story on this patient testimonials page it will be sent to Dr. Brock/staff and will be posted shortly. Make sure to check back in a few days to see your story.
Tell us your Chiropractic Story
Our Patient's Speak…
See how Chiropractic is helping transform lives and Build a Solid Foundation!


FINALLY! RELIEF FROM THIS PAIN AND DISCOMFORT. I went to see Dr. Brock Van Dyke for a chiropractic appointment, and he was able to find all the spots in my spine that were out of alignment and adjust them appropriately. Headache, tension, tightness and pressure was all relieved after my alignment! Go see him for all your chiropractic visits! He is the best! Very informative and explains everything in detail. You will leave feeling 100% relieved from pain and discomfort.
Brittaney

A few weeks after starting chiropractic care my wife and I were in a car accident. I'm glad I had my appointment already scheduled and was able to get checked that same day. I have been getting my neck and back adjusted. Since then, most of the pain and stiffness have gone away. If it wasn't for Dr. Brock, I would have never came to have less pain and a better way of healthy living.
Sean

Before coming to the clinic, I had been struggling in many aspects of my life. Dr. Brock has been nothing but supportive and understanding with me. Before starting care, I was very stressed. I would have consistent pains through my back, neck and shoulders. I have had a lot of complications with TMJ (Temporomandibular Joint Disorder) due to surgery, as well as stress, which would cause headaches. At one point, I was so concerned that I had my medical doctor perform both an ECG and an ECHO Ultrasound because of severe pain in my shoulder, chest and a numb feeling in my left arm.
I tried anti-anxiety pills, depression pills, pain medication and muscle relaxants, all to no avail.
Since starting regular Corrective Chiropractic Care, I have found that my body does not hurt as much, I have less frequent headaches and I can even breathe better. Because of all these physical improvements, I now have a lower stress level which in turn has made for a happier family life!
Since I have been coming to the clinic, I have learned that there is a better way to deal with my situation besides ignoring it or covering it up with pills. I would tell anyone who is considering Corrective Chiropractic Care that it is safe and very beneficial. Thanks Dr. Brock.
Malcolm
I was introduced to Dr. Brock at the Mall. My boyfriend, David, mentioned to him that I had been involved in a car accident.
Before coming to the clinic, I suffered from neck, shoulder and back pain that sometimes got very severe. I also had very bad, daily migraines that were extremely hard to get rid of without spending an entire day in bed.
In hopes of relieving the headaches and back pain, I went to my family doctor who sent me for various tests such as MRI and an ECG, but unfortunately found nothing. I also used to attend massage therapy monthly, but didn't find it corrected the problem.
Since starting regular Corrective Chiropractic Care, I have learned a lot. I now understand that many of the problems that people experience can be resolved through Chiropractic care. Personally, since I began regular care I have made a lot of positive changes in my life: I began to eat healthier, joined an interval training center called Orange Theory Fitness and I am in the process of quitting smoking. Chiropractic care has given me a lot more energy and motivation to better my life and my health. I have much better mobility and less pain, which allows me to do all the things I want.
The biggest change that I have personally felt and others have noticed is my motivation and drive to better my life. My physical health and dieting goals have benefited tremendously. Because my back is not bothering me as much, I can concentrate a lot better in school; as a result I just received a 95% grade in one of my university classes!
I would definitely recommend to anyone to try Corrective Chiropractic care because it is both interesting and beneficial; many problems in the body are because of misalignment in the spine and I think a lot of people could benefit enormously.
Thank you Dr. Brock!
Maegan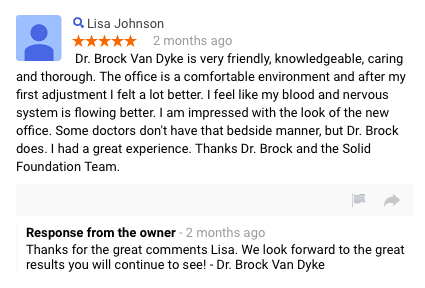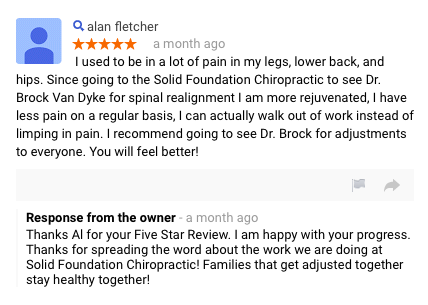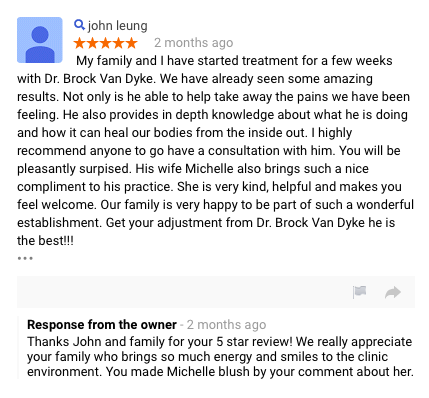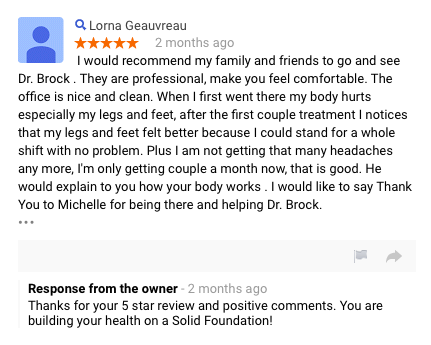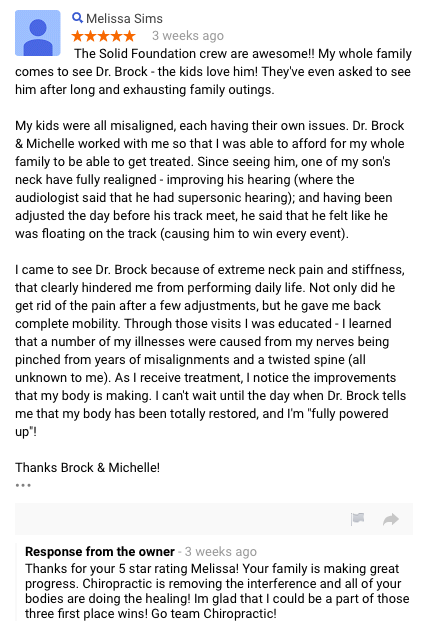 I was introduced to Chiropractic by my best friend.
We were having a get together in Ottawa visiting a college friend, when in conversation; I mentioned that I have been experiencing back and neck pain more frequently. Michelle asked me couple of questions and did a quick visual posture check. She revealed to me that my neck was not aligned with my shoulders, along with misalignments in my lower back and neck. She explained to me that this can be fixed with Corrective Chiropractic Care. In full confidence, I booked my appointment with Dr Brock; he introduced me to the clinic, showed me around and proceeded with my analysis. My results were eye opening and a lot of my aches and pains made more sense. Dr Brock explained how I received the increased neck and back pain. Who knew that long commutes driving with poor posture would cause neck issues? A lot of habits that I have were quite relevant to the pain I was experiencing.
Prior to Corrective Chiropractic care, I didn't believe any of my discomforts were from my spine. I thought that any neck, back, headaches or indigestion were caused by nutrition, stress, age and stiff muscles. This led me to believe I could fix myself with medications, such as Advil, Tylenol or Tums. They were a temporary relief, along with stretching and daily walks.
I have had these developing issues for about 5 years now. I am an active person who enjoys outdoor living, such as bike riding, walking, hiking, baseball, badminton, volleyball, skiing. Oh the list can go on, but with my stiff muscles and body aches, I found that I couldn't do all of it. Walking was the most I could do without getting any soreness or aches.
At first, I tried medications for all of my aliments along with a massage chairs. Then, I altered my food intake, from takeout and junk food, to more store bought healthier food. Both of these methods only got me so far to how much better I was feeling every morning. I didn't realize it at first, but I wasn't as active as I used to be because of my body aches.
Before I started Corrective Chiropractic with Dr. Brock, I stood on my left foot constantly. Chiropractic has helped me improve my pelvis alignment and balance on both feet.  It has helped me with my current career (data installs), where I am constantly on a ladders and balancing on my tip toes. I feel that my neck has way more motion and is not as sore as it used to be when I only did my stretches. I don't take Tylenol or Tums anymore! Now that spring has finally arrived, I have been out on my bike a bit more and I have been hiking more frequently with hardly any soreness. Yay! (Does a happy dance!)
After my initial analysis, the x-rays showed me that my neck and my hips were out of alignment. I always stood to one side rather than on both feet equally.  This resulted in my hips being uneven, which cause my lower back pain as well as standing majorly on my left foot. For me, standing on the left foot was comfortable and the only reason it was comfortable was because my right hip was 16 mm lower, therefore lengthening my right leg.
The exercises that Dr. Brock taught me and the use of the Dennerrol have helped me strengthen my neck, slowly bringing me back to a more natural position. This has helped alleviate a good portion of my head aches and neck aches.
This process has been a difficult one to keep consistent on, because of the lengthy drive from Mississauga and Newmarket. Some days I feel tired from the drive, but what keeps me coming back was my noticeable change in my hips and lack of soreness in my neck. The positive reinforcement from Dr. Brock is visible proof that what I am doing is improving my physical health regarding posture and range of motion. I want to be able to live a full life with as little pain as I can and being young, I have the time to change my habits for the better.
During work I have noticed better stability on my ladder and less soreness in my neck. In my job I am always looking up in ceilings and pulling wires in awkward spots. Which causes a lot of stiff muscles after pulling cable from atop a ladder and balance is the key to stay on the ladder.
I don't have kids yet, but when I do I want to be able to play and be involved in their lives. I don't want to be always popping pills to make it through the day, using junk food as comfort food and not going for a walk because of my back and neck. Now, I haven't been (barely) any added drugs into my system, no more added chemicals that is unnatural for my body to have.
 I would tell other prospective patients that you don't have to live in pain! Even if it is a slight neck issue, it could grow into something more and you have the power to change it. Your body gets used to the pain and position of your joints in your current body already, Chiropractic slowly adjusts them so you can have full motion again.
This is something you can improve on in your life, now who doesn't want to live a long life? I know I do, sometimes it takes your friend or family to nudge you in the right direction. Don't be afraid to try something new, you never know what you might find.
Stephanie